Below is my Atreyu shoe review of the base model V2 plus a little background to the Base model V1
If you prefer video as a format I did a review of the Atreyu Base model V2 on my Youtube channel
How I Started Running In Atreyu Trainers
I didn't know much about the Atreyu brand at all. I think I actually he the first time I heard of them was on a YouTube review, and they just caught my eye because I love the colour of the shoes.
Yes, I'm that shallow and love what seemed a very simple shoe, which was a definite plus for me.
I've been using a shoe with support. I'd been looking and trying minimal shoes for a while and couldn't quite make the transition. I ran in ON shoes for quite a time, where I felt they were a nice balance between having some support but I could still feel the road. However, there was still that bit of me that wanted that little bit more freedom, a lighter shoe, but without crossing over entirely to a minimalist shoe.
So I looked at an Atreyu, which I thought, perhaps, could be the bridge between wearing an ON shoe and wearing something a little lighter.
So I had a look on the site, and an Atreyu are based in Austin, Dallas, and there was a small team, and I started to look at purchasing my first shoe from them.
The Base Model V1. Where I Started Running In Atreyu.
When I first looked at the Atreyu site, they had brought out version one of the base model, and they had a waiting list for the artist, which is their carbon road-based shoe.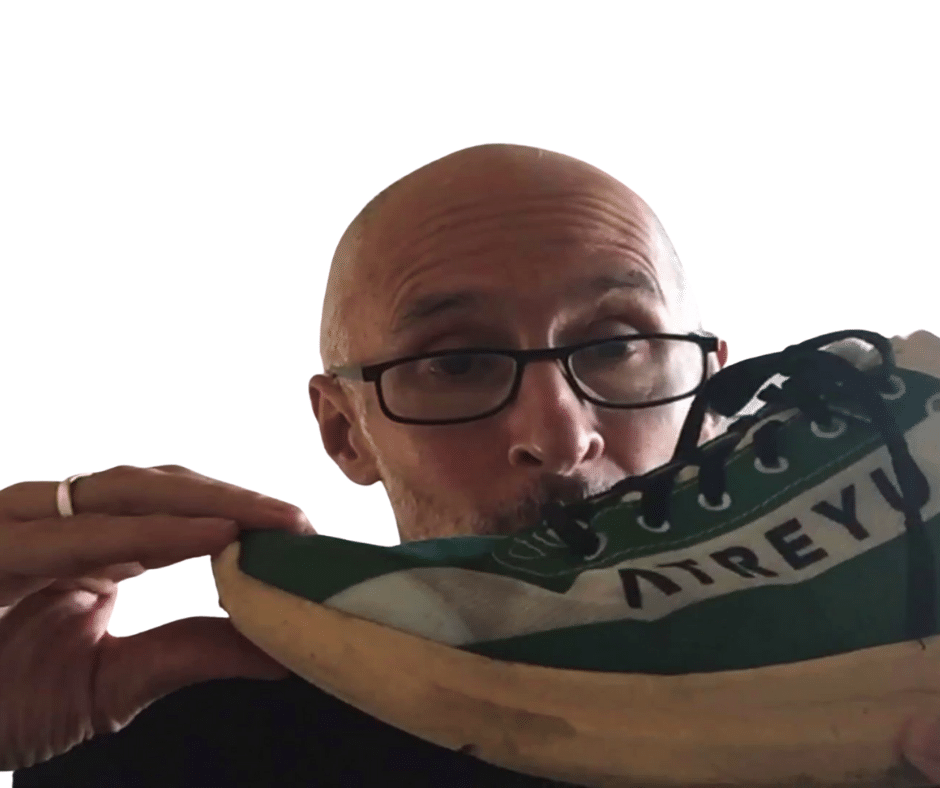 I didn't wasn't very successful at buying a shoe from them because they'd run out of so many of the base model version one while they were waiting to launch version two.
And I had this situation where I purchased a pair of shoes, but then realised that I'd bought a half size too big a tray you were really good. They said they'd cancel the order, which they did. And unfortunately, I couldn't buy a shoe-in my right size; I didn't have any at the time,
But weirdly. Three days later, and an Atreyu shoe turned up, it was the shoe that was a half size too big, so I contacted the tray you and told them that they delivered me the shoe, and they told me, have it on us, you know, no charge.
So I tried to shoe it on, and though it didn't fit perfectly because of the shoe being such a good feel, the shoe wrapped around your foot. I could still run in it.
I discovered I loved the shoe, so much so that I went out and bought another version one, knowingly that it was a half size too big.
So that's how I started with an Atreyu literally in a shoe that was a half size do big, but they were a lovely shoe. They were very, very simple.
One-Piece EVA midsole and sock liner and a six mil offset and about six ounces in weight.
So now, let's move on to the Atreyu base model version two; let's have a look at what's changed, what's improved, and what might be the downsides.
Introducing The Atreyu Base Model V2
I've got to say, I was excited about the launch of the new base model version two, as I'd enjoyed running in version one, even if I was running a half size too big, so I had a look at the colourways. And to be honest, I would like to buy quite a few of them, and I went for the white, which I think was not a practical decision, it was just a decision based on the way I like the look of the shoe.
So what is different about the version two base model?
Well, I think the thing I loved was that they hadn't thrown the baby out of the bathwater, so they haven't tried to change everything about the new shoe from the previous model.
Evolution Instead Of Revolution
So what they've done are evolved certain aspects. So, now I think many people mentioned version one was, what the shoe last well enough with the EVA midsole?
So what they've done now with version two, you've got supercritical Eva on the midsole, so it's harder wearing which we'll come to in a moment.
And also, you've got a TPU sock liner. So they've just made slight changes, but I can tell you from running in the shoes that they feel significant changes.
The shoe feels like it will last more miles now.
Suppose you're going to compare it to something like a Hoka or other heavy-duty running shoes. In that case, you're not going to probably get the same mileage out of the Atreyu that you could get out of something like a Hoka.
Still, I do believe that you're going to get better mileage than version one.
It's early days, but I will update this blog post as I put the Base model V2 through its paces.
Two other aspects of V1 that are still present in V2 are that it's still a neutral shoe six mil offset, and it's still in that six ounces area of weight, so they've managed to make these changes to the midsole and maintain the super-light feel, which is something I adore about the shoe.
So What's Working For Me When I Run In The Atreyu Base Model V2?
So what do I love about the Atreyu new base model version two?
The Fit Of The Trainer
Well, first of all, I love the fit. Now, it really will depend on the type of shoe that you like. If you're going to agree with me on the fit, because it's a neutral shoe, and it's not going to give you much support.
I like the way the shoe fits; at the top of my foot holds my foot well in place, and I like that security, but at the back at the heel, there's not a lot of support; there's a lot of movement. And I also like that.
If you're more into stability running shoes, you know that they will feel very loose to you in that respect, and the material that the shoe is made of is very light.
So, overall, you're going not to feel like you've got a lot of shoe on your feet, and if that's the case for me, I love that, but you may find that that could be a negative.
The Weight Of The Trainer
Secondly, lightness. I love the feeling that there's nothing on my feet, I think, in my size, which is 11. It's just over six ounces of weight, and it just makes me feel like I'm not running with really anything on my feet at all. And, I think that it increases my cadence and my movement. And so, I love the fact that they feel light on my feet.
For me, there's a great energy return on them in the respect that. There's enough bounce from the midsole for me. They're not squishy feeling. There's a definite kind of excellent return.
Would I go out for 18/20 mile runs in them? I'm not sure. At the moment, but I will definitely be happy, going up to my 13/14 mile runs in them, and definitely on those shorter, faster runs, they excel.
The Way The Trainer Looks
I also love the way they look; they're not going to be everybody's cup of tea. Still, for me, they just looked at slightly different from your regular trainers. I love the colourways they do. It just takes me back to some of the first trainers I had back in the 80s that just that very simplistic but effective look and feel of the shoe.
What Could Be Better?
Okay, so what could be better about the Atreyu base model version two?
Potential Longevity Of Trainer
Well, I have to put it out there that I think you're going to find a lack of longevity of the shoe for some runners. And I do say some runners, and I think it will come down to the type of runner regarding the shoe's longevity.
I'm finding that even from the base model one that I'm getting, you know, 300 miles. Plus, out of the base model one, and I wouldn't be surprised to get a lot more from the base model version two. However, it's early days yet to say that, but I do feel that for some runners, they may not find this, having the same level of longevity, as you would do from saying Hoka or something like that.
Buying Atreyus Worldwide
The other thing is acquiring the shoes. You know, if you're in America, they work out an extraordinarily cost-effective shoe. I think about $85. The problem you've got is certain parts of the world, like the UK, send them to you, and they arrive quickly, but you will have to price in things like VAT and delivery, which does push the shoe price up. Still, for me, within the realms of a reasonable cost shoe, it does move that away from being a very cheap shoe to be a mid-price.
And the other problem you got in some parts of the world is that you will not be able to purchase Atreyu at the moment.
I'm sure this will change. And this is down to the fact that there is a young growing company. Still, as of writing this review, that is a significant problem I think that Atreyu has. Their distribution, at the moment, is predominantly from the United States.
I am sure it will expand in time as they get more distributors worldwide.
This, in turn, should reduce shipping costs.
There you have it, the Atreyu base model V2 that strips back all the bells and whistles and gives me a shoe that I want which is a good energy return. But where I can feel the ground.
A light shoe that doesn't make me aware of its presence is an excellent link between the ability to have a shoe that feels like a minimalist shoe but with some of the upsides that you get from a shoe that isn't a minimalist shoe.
So it's a bridge between a support shoe and a minimalist shoe if you want to make that journey.
As I said earlier, depending on the type of runner, you are as to if Atreyu will be the correct type of running shoe for you, but they put a smile on this 57-year-old runners face for sure.