Why budget running sunglasses?
Well, I see so many recommendations for running sunglasses, and to be brutally honest, it ain't rocket science, and you don't have to spend a fortune to get running sunglasses that are functional and look great but don't cost you as nearly as much as a pair of new trainers which in my opinion is ridiculous.
I needed budget sunglasses for running that looked good however were not style over function.
Spoiler alert my budget sunglasses of choice are Goodr running sunglasses.
My review outlines what I liked and why I ended up looking like a top gun reject 🙂
Do I Need Polarized Sunglasses For Running?
For me living in the UK, there are many parts of the year that running sunglasses are very low on my list in general.
However, when I run with sunglasses on the road I like to have polarized glasses as it reduces the glare.
The way polarized glasses work is they take the glare off surfaces such as parked cars etc. In effect making the light more even.
I am less likely to wear them when trail running as I tend to be in more shade and some people say that polarised glasses can impact depth perception. I can't say that's something I have personally experienced myself.
How Do I Choose Running Sunglasses?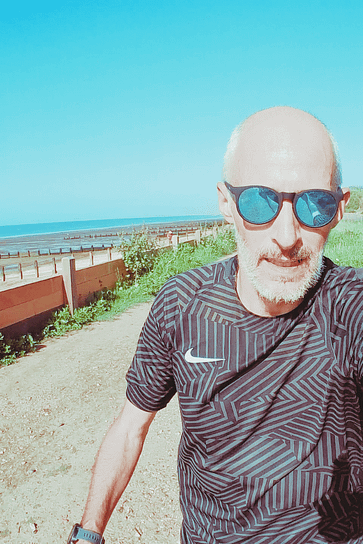 Goodr Running Sunglasses-Why?
[lasso ref="goodr-running-sunglasses-blue-w-blue-lens-at-amazon-mens-clothing-store" id="5167″ link_id="1233″]
AS I mentioned, I wanted sunglasses that did a job for me when running; however, if I lost them, I would not go into 6 weeks of grief counselling!
I looked at all the normal names, such as Oakley radar shield, Forceflex FF500, which were being touted as budget options.
I can only say one person's budget option is another runners expensive. As Oakleys for me were out of my budget, the Forceflex were a reasonable price, though.
My feeling is I like to spend my money where it can have the most impact, and running sunglasses are not that high up the priority list; of course, this might be different for you.
We do tend to spend money on what's important to us.
So `I wanted the most bang for buck I could get these were my criteria…
UV protection
Style Over Function
Value For Money
Fit & Features
UV Protection And Polarisesd.
The Goodr running sunglasses I bought are polarised. What I like was when I was running, it took any immediate glare away. However, I never felt that I was in a suddenly dark environment. All colours looked natural, just with the glare taken away.
The Goodr running glasses also have UV protection polarized lenses and UV400 protection that blocks those harmful UVA and UVB rays.
Style Over Function.
Now even at 57 years old, I still like things such as sunglasses to look good. However, these glasses first and foremost have to serve a purpose: to take the glare of the sun bouncing off objects as I run or at least reduce it.
These are the boxes that needed ticking for me….
Feel comfortable on any length of the run.
Don't bounce about or slip.
They are light and non-intrusive…
Then and only then do I worry about what they look like.
To this end, I found my Goodr running sunglasses fantastic they ticked all the boxes.
Fit And Features
I have read by some people that they feel a tight fit. All I can say is the standard size felt comfortable on my rather large head.
However Goodr does, do wider fitting sunglasses too.
Recently I went on a 12 mile run on a hot UK morning (yes, hot can happen in the UK sometimes ). To be honest, I forgot I was wearing the Goodr sunglasses most of the time. Even within shadows, the glasses did not make what was in front of me seem overly dark.
When I sweated I found the glasses kept most of the sweat out of my eyes.
I wish I had not personally bought a mirrored pair of lenses as I feel like an out of work extra from top gun; I guess I have to put that down to some advanced midlife crisis 🙂
Value For Money.
I felt for the price the good running sunglasses offered a great balance between all the functionality that I could want and a fairly great choice of styles and colours for a low price of between £25-£35. I think in the USA, it converts almost like for like is $25-$35.
For me, I cant see why I would pay more, or less I was chasing to be wearing a certain label.
Budget Running Sunglasses I Looked At But Didn't Buy.
Look, I can only wear one pair at a time 🙂
So here is a round-up of some of the sunglasses that I looked at that fell into what I would call a budget category that looks like they deliver value for money.
Duco Men's Sports Polarized Sunglasses UV Protection Sunglasses for Men
[lasso ref="amazon-com-duco-polarized-sports-cycling-sunglasses-for-men-with-5-interchangeable-lenses-for-running-golf-fishing-hiking-baseball-0020-0021black-clothing" id="5163″ link_id="2965″]
As a running sunglasses brand, Duco came up quite a bit, and the glasses seemed to tick the boxes for most of my criteria.
I went for the Goodr in the end because they just seemed more choice of styles.
However, the Duco running sunglasses have UV400 protection and look really lightweight.
Though there seemed to be some feedback around fit and comfort; however, with an item like running sunglasses, I think this is something that comes up quite a bit.
JOJEN Polarized Sports Sunglasses for Men Women Baseball Running.
[lasso ref="jojen-polarized-sports-sunglasses" id="5159″ link_id="2967″]
These caught my eye as they had quite a wide looking frames and of course a very reasonable price.
Some facts about the JOJEN Polarized Sports Sunglasses
TAC HD lens
UV Protection Coating coating
Lens width: 2.16 inches
Lens height: 1.6 inches
They also say they have a very tough frame made of something called TR90; as I say, I did not purchase these, so I can't say how tough they are
Rivbos Sunglasses
[lasso ref="amazon-com-rivbos-polarized-sports-sunglasses-for-women-men-driving-shades-cycling-baseball-running-rb833-blackpink-clothing" id="5161″ link_id="2969″]
The Rivbos brand popped up quite a bit, and I almost went for these glasses and I might in a while taking another look at them, but as I have said, living in the UK, the need for more than one pair of running sunglasses is limited.