Is it better to run with or without music? Both have their own benefits and shortcomings. But it's great to be aware of when to listen to music & when not to when running.
So, Should You Run Without Music?
Well, my running life as an adult has really been split into two very distinct halves, the first half. I nearly always ran with music.
The second half. I hardly ever do run with music.
So I'm just going to share the pros and cons with you as I see it all running with or without music as I see them.
Listening To Music Is A Great Distracter.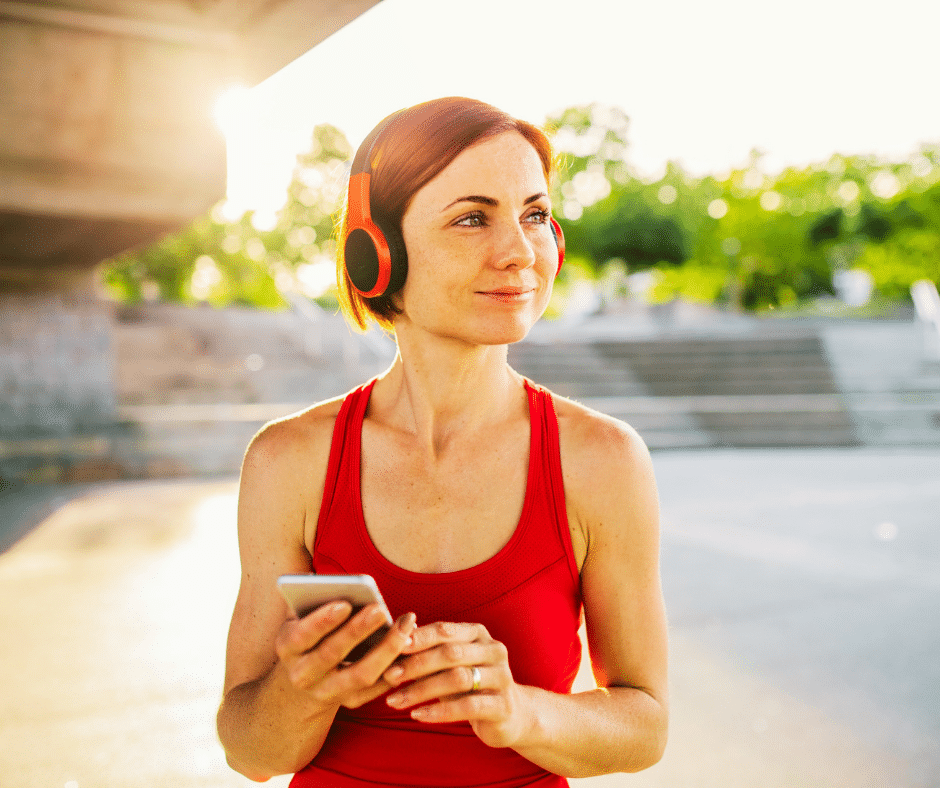 One of the reasons I often ran with music was to distract myself. Running is a very, very hard process, especially when you're running long distances, and you can sometimes be running for two or even three hours, but even if you're running only for 40 minutes. That's still a long time.
In this day and age, I will come to in a little while for us to be running or doing something without any distractions. But when you have music, you can distract yourself from the discomfort of running. And this is one of the great points about being able to listen to music.
Listening To Music Can Motivate You.
It can also keep you motivated, while you are running the type of music you listen to, can keep you running at a higher pace, which is fantastic, can you get to create your own playlists so that you can run with the sort of mood and feel that you want to run at, at that time.
It Can Help You Run To A Higher Cadance
Some people even run with particular music to about 180 beats per minute, giving them the consistent pace or cadence they wish to run. I got to say; I've never been that exacting with the music I listened to.
When I did that, 10 in 10. which is 10 marathons in 10 days in 2012. I always listened to music while I ran, and I found it a great distraction when doing 10 marathons.
The only thing I did find was once I put on music that was too high tempo; it got me so pumped up that I actually went too fast on about, I think, my sixth marathon. So, you can sometimes have music influencing you to such an extent that it might have a negative impact on your run.
The Negatives To Listening To Music While You Run.
It Does Not Build Up Your Mental Strength
So like I say, these days. I don't run with any music. So what made me change from something that I genuinely enjoyed to something where I don't really hardly ever run with music at all?
Well, I felt that it would make me mentally stronger if I got used to running without music, without the distraction, and I have to say, I feel this is something that has happened, that I've enabled myself to get mentally stronger so that I don't have to have the distraction of music.
It's Not Always A Good Rehearsal For Running Events.
Also, many events these days running events do not allow you to listen to music while you're doing them. So yet again, if you've done all your training with music and then have to run an event without music. That can be quite demotivational for you as a runner.
A Lack Of Awareness Of Your Surroundings
I also run a lot of my runs very early in the morning or late at night. I just started to feel that I wasn't so aware of what was going on around me, people coming up behind me on bikes, and it was just blocking out too much of what was happening around me and my surroundings.
It Stops You From Becoming More Aware Of Yourself As A Runner
My son often asked me when I've run for, say, two hours. What music did you listen to today, dad?
And when I tell him that I didn't listen to anything, he always asked me, what did you think about it?
And this is the other thing I think listening to music distracts you from managing your run, quite a lot because, for me personally running long distances. This seems to be always something to be thinking about whilst I'm running.
What's my pace?
How am I feeling?
How are my feet hitting the ground?
I am I slapping the ground with my feet?
I am I hitting the ground? Well, which you cannot generally hear when you're got headphones on,
What's my breathing like?
So many things that you have to take in or can take in when you're running and you don't have headphones on. So I really think that it can actually take away from your running performance, having music on while you're running.
Conclusion. Should You Run With Music Or Without.
So should you run with music or without it?
I don't think it's cut and dried. Really. I think if you run with music, it's a great distraction. It can get people out running that may have never got out running. And I know there have been runs that I've not wanted to do. But the thought of listening to one of my favourite albums while I was running actually got me out the door.
So it can be a great motivator; it can be a tremendous way to distract yourself and get those miles done. So I think in that respect, it is really, really positive.
And However, I do feel that sometimes it's really beneficial to perhaps have some of your runs without using it to build up that mental strength. And also, become aware of more of your running so that you don't turn off or separate yourself from the process of running so that I see so many runners that they're listening to their music, they're not aware of the surroundings. Still, they're not even really being aware of their selves.
You know, they're not aware of their breathing; they're not aware with their foot strike on the floor. So either they're not engaged with the running process.
How To Run With Music Without Phone
But if you do want to run with music but don't want to run with your phone. I totally get that as well.
My phone is so big; it's one of the things that turns me off running with music as well. I think if you got something like Apple Watch, you could run and have that.
One of the things that I've seen, I've got a Garmin, 245, and you can get a Garmin, 245 Music, and it actually stores the music on the watch. And it's an excellent way of running without a phone,
So if you want that little bit of music or feel that you won't get out the door without some music, then running, say with a running watch that stores the music, actually, on the watch is a good way of running, but running without your phone.
Some Suggestions To Run With Music Without A Phone
Of course, some of you might not be ready to trade in your running watch for a new Garmin Music 245 or an alternative watch such as an Apple watch; then, you can look at the many options for a mini MP3 player.
Mighty Vibe MP3 Player
The one I really like the look of is the Mighty Vibe. You can use either of your Spotify playlists. However, you need a Spotify paid premium subscription, which could be a downside for some.
Or you can utilise Amazon music.
I will say looking at some reviews using the mighty vibe takes a bit of a learning curve; however, if you love your Spotify and want to run without a phone, this might be an option.
Here Are Some Of The Mighty Vibes Features
[lasso ref="amazon-com-mighty-vibe-spotify-and-amazon-music-player-bluetooth-wired-headphones-1000-song-storage-no-phone-needed-blue-everything-else" id="5539″ link_id="1861″]
5+ HOURS OF SPOTIFY AND AMAZON MUSIC PLAYLISTS & PODCASTS OFFLINE – Mighty plays your Spotify and Amazon Music playlists and podcasts offline without a phone, screen, or Internet connection. No data or WiFi is needed for playback – leave your phone at home and take your streaming music anywhere.
BLUETOOTH COMPATIBLE – Mighty works with all Bluetooth headphones, speakers, and car entertainment systems. Pair Mighty with your Bluetooth accessory, and it will automatically reconnect each time you want to listen to your music. No phone needed. Mighty works with wired headphones too.
WIRELESS SYNCING – Use the Mighty mobile app to wireless sync your playlists and podcasts to Mighty. No cords or computers are needed. Our Stay Fresh feature automatically updates your playlists while you sleep, so you have fresh tracks every morning.
SMALL & LIGHTWEIGHT – Mighty clips onto any piece of clothing, is smaller than a box of matches (4x4cm), and lighter than two £2 coins (20g). You won't even notice that you're wearing it.
DURABLE & KID FRIENDLY – Water, sweat, and drop resistant. Mighty's screenless design and physical buttons make it the perfect companion for any workout and your kid's playtime. No more broken smartphone screens!
Garmin 245 Music.
I don't personally own the Garmin 245 music. However, I do have the Garmin 245, which is a fantastic running watch.
The only difference between the two watches is the 245 music, is yes you have guessed it stores music so that you don't have to take your phone with you on the run.
[lasso ref="amazon-com-garmin-forerunner-245-music-gps-running-smartwatch-with-music-and-advanced-dynamics-black-electronics" id="5535″ link_id="2971″]
Here are some of the features of the watch…
GPS running smartwatch with music advanced training features
Sync with music streaming services, such as Spotify, to easily store and play your favourite songs right from your watch
Evaluates your current training status to indicate if you're undertraining or overdoing it; offers additional performance monitoring features
Get free adaptive training plans from Garmin Coach, or create your own custom workouts on our Garmin Connect online fitness community
Provides advanced running dynamics, including ground contact time balance, stride length, vertical ratio and more (When used with Running Dynamics Pod or HRM-Run or HRM-Tri monitors (sold separately))
Safety and tracking features include incident detection (during select activities), which sends your real-time location to emergency contacts through your paired compatible smartphone
Battery life: up to 7 days in smartwatch mode; up to 6 hours in GPS mode with music.
Wireless Headphones To Run With
Now you still need a good pair of wireless headphones to listen to your music while running.
As I have mentioned, I don't run that much with music, but when I do, I use Mifo O5 Plus Gen 2
Mifo O5 Plus Gen 2
I bought these back in early 2021. My buying process for these headphones was to have some wireless headphones to walk to work, listen to podcasts and music, and run with now and again.
I wanted a mid-price point and a pretty good sound.
Price Point Of Mifo O5 Plus Gen 2.
The Mifos normally are in the £89/$89 price range; however, I got mine on a prime day special for £72.
That price point was good for me as I wanted something of good quality, but I was not willing to pay over £100.
Sound Of Mifo O5 plus Gen 2
Now I know the sound is a very personal thing; all I will say is I like the sound as it's crisp and clear; however, I do feel up against some headphones it lacks a certain bass.
My son bought a pair of Jabra Elite 75t Earbuds; these had a much more deep bass to them but cost a bit more money.
Personally, the Mifos have been great for my uses, but if you are a bit of a bass lover, then looking at something like the Jabra Elite 75t Earbuds might be a good alternative.
Dislikes Of Mifo O5 Plus Gen 2
I wouldn't say I liked the case; it looks very stylish but is bulky and hard to open, which I know sounds petty, but when you go to open the case, and it keeps snapping shut, it really starts to start to grate on you after a while.
As for the weight of the case, this is probably a moot point for many, but after years of getting used to my Apple AirPods case being so light, it really struck me.
However, it does give the headphones plenty of protection.
Overall very pleased with the Mifos.
[lasso ref="amazon-com-mifo-o5-plus-gen-2-wireless-earbuds100-hours-playback-in-ear-headphonesbluetooth-5-0-wireless-earphonesipx7-waterproof-sports-earbudsdeep-bass-stereo-soundtransparency-mode-earpods" id="5529″ link_id="2973″]
Features Of The Mifos
【100 hours playtime】 7 hours per charge with 2600mAh charging case providing 15 times charging, which means you can enjoy O5 Plus wireless earbuds over more than 100 hours without worrying about red flags.
【Easy pairing】 O5 PLUS in-ear headphones have streamlined the pairing step,easing it up to just one step in order to be suitable for both newbies and audiophiles.Buds' ergonomic design performs a euphoric sense of comfort and unmatched stability.
【IPX7 waterproof】 Mifo O5 Plus sport earbuds with IPX7 rating can effectively protect the internal components from water, rain and sweat. At the same time, it is scientifically proven that this waterproof rating prolongs the battery life span.
【Hi-fi Stereo Headphones】Mifo O5 PLUS true wireless earbuds with dynamic speak drivers and 6mm vibrating diaphragm provide you with deep bass, pure and undistorted quality. Bluetooth 5.0 chip creates a wider Bluetooth range and more robust signals, greatly upgrading your audio experience.
【Transparency mode】 It's way easy for you to savour the enjoyable experience, juggling ambient sounds and music playing in your earbuds. In doing so, you can facilitate working progress with high-level security and avoid safety hazards in many cases.
Aftershokz Trekz Air
I don't own a pair of Aftershokzs; however, many runners on the Facebook groups do.
Aftersshokz Trekz Air uses bone conduction to help you listen to music while being aware of potential hazards while you run.
This enables you to listen to music and keep your ears open for any potential threats around you, such as distracted drivers.
I think initially, the main criticism of these types of bone conduction headphones was, of course, the loss of quality sound, and while I think that is still the case, I think massive improvements have been made with the Aftershokz Trekz Air.
Features Of Aftershokz Air.
[lasso ref="amazon-com-aftershokz-air-open-ear-wireless-bone-conduction-headphones-midnight-blue-as650mb-electronics" id="5531″ link_id="2975″]
OFFICIALLY RECOMMENDED – The only official headphones selected by England Athletics (the Association for Athletics). Nothing in/up/over the ears. Our open ear design makes running, cycling and driving safer.
Exclusive packaging – Includes Trekz Air and AfterShokz' housing for storage and transport. The OpenFit headphone design ensures maximum perception of the environment. The case protects the device from damage and scratches.
Patented bone construction technology – AfterShokz has 150 patents worldwide. PremiumPitch+ offers 1A audio experience. LeakSlayer reduces natural sound loss by 70%. Audrey Says guides users through power, pair, play and talk functions.
Ultimate durability: IP55 certified to repel sweat, dust and moisture. Trouble-free 2-year warranty. Thanks to titanium coating, the Trekz Air can withstand the most demanding exercises and stay in place with every movement.
Comfortable and practical – Equipped with Bluetooth 4.2 at 6 hours battery life, the lightest AfterShokz headphones to date offer continuous comfort and excellent multi-device connectivity.
Research For Article
1.https://www.sciencedirect.com/science/article/abs/pii/S1469029202000419
2.https://www.ncbi.nlm.nih.gov/pmc/articles/PMC3761862/