On Cloudflyer 2 Review And Test After 700 Miles Lockdown Running.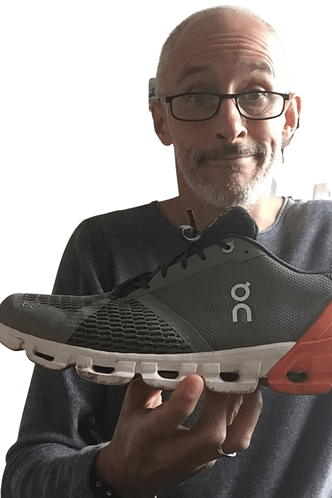 My Introduction To My Cloudflyer 2 Review.
So how did I come to running nearly well over 700 miles in my Cloudflyer 2 made by ON. Well, my last three main pairs of running shoes were made by ON back in February 2019. I bought the first iteration of the Cloudflyer, which I will share with you in a while to show you the improvements they've made on the Cloudflyer 2. In late 2019 I bought their Cloudflow race shoe, which is much more of a race-based shoe, and did quite a few miles in that. Then at the end part of 2020. I bought the Cloudflyer, the newer version of the Cloudflyer.
Because we were in lockdown, I didn't have a lot of money for running shoes in the UK because my hairdressing salon was closed. So I bought Cloudflyer running shoes in the October of 2020, and I haven't really been running in any other shoe since.
So that's why I've done 700 miles in them. Still, I thought it would be a perfect chance to show you a couple of things, the shoe itself and the improvements they've made on the Cloudflyer from the original Cloudflyer because I still have my old Cloudflyers. You can see from very similar mileage the differences in the shoe.
They look a very different shoe thats for sure!!
So, this is going to be my review of the basis of what I've done in the 700 Miles, what I've loved about the Cloudflyers, what I think could be done differently, who the Cloudflyers would suit? And as I said, the improvements I feel that I've been made to the shoe since the first iteration of the Cloudflyer.
[lasso ref="on-running-mens-cloudflyer-road-shoes" id="1987″ link_id="131″]
On Cloudflyer Shoe Specs
So have a look at the technicals of the Cloudflyer 2. The first thing that I really noticed is, you know, over the first pair I had was the tongue is much plusher, it's a lovely tongue and the insole, to the shoe feels very luxurious and has maintained that quality of comfort over 700miles, when you actually put your feet in the shoe, you feel very secure in the shoe. I've got fairly wide feet, and I have to say when I first put the shoe on, I was a little bit concerned because when I had the original Cloudflyers, I got this hole to appear at the side of the shoe; it was almost like my feet were bursting out the sides, but I had no rubbing at all. So it was very concerning when I bought these, but as I've said run over 700 miles in them and haven't had anything like that happen.
The Cloudflyer Has A Speedboard
The Cloudflyer 2 has a speedboard in it, and you can actually feel it quite strongly in the shoe. I think the ride of the shoe is quite firm which I like. I'm quite used to walking in minimalist shoes in the day, and I wanted a shoe that had support, but I didn't feel like it was overtaking my running, and I would have to say, the Cloudflyer 2, I think does that pretty well. You can feel the Speedboard rocking you forward as you run but in a very fluid, natural way.
And the helion superfoam is most present at the back of the shoe. Now, the only thing I would say is it seems to encourage you to land on that heel area of your foot. I hadn't really noticed this so much until I started playing around with my Insta 360 Go 2 camera. I took some shots of me running in slow motion at the side, and I was quite curious about how my foot was landing. I think it is a big part of the Cloudflow 2 design, where it doesn't rock you that far forward but then take you quite quickly back on to where the helion superfoam is most present; I'm not saying this is a problem. It's just a design of the shoe.
So, I find it really good for long steady runs. I find that it doesn't perform quite as well; when I'm doing those faster paced 5K's or 10 K's, I feel that I'm working the shoe, a little bit more myself than the shoes working with me, quite so well, it's not a massive problem, but we're in the past have the Cloudflow. Cloudflow was a speedy shoe, And definitely when you're doing those 10 Ks. It definitely wanted to run fast if you wanted to run fast. The Cloudflyer 2 is more of a lightweight stability shoe, which is what I wanted when I bought it. I wanted that bit more stability.
I knew I would be doing some longer runs in lockdown, so it does what it says. And I'm actually at the moment training for 10k and doing faster runs, and it's fine. However, I do think it's at its strongest when it's being used in that mid-range of running or long-distance range of running, you get stability, without it feeling over supported, and the feel of the shoe is responsive, without feeling too spongy and that's something I like I like the feeling that the shoes taking some of the impacts away from the pavement, however, that I'm not sinking into the pavement. There's a good return on the energy in that mid-range of running when I'm running, say, steady, say, 5,10,15 or even 20 miles.
I feel there's a lot of stability, but without feeling too spongy, but as I say, when you do get up into those higher levels of speed. For me that you know it's six and a half minute miles and quicker. Then you do find; I feel that you are working the shoe a bit harder, and it isn't supporting that kind of pace, as well as some of the slower paces.
How Does the On Cloudflyer Fit?
So how does the Cloudflyer fit? Well, obviously, it's always going to come down to some level of personal preference for a running shoe based on your own feet. For me personally, my feet, as I've mentioned, have fairly wide, but I found the fit very comfortable.
I'm about a 10 and a half. UK size and I always go up about half the size, so I bought the ON in 11, and I found the insole really plush; you feel very supported and secure by the shoe. The lacing system does look a bit complex when you first look at it. But once you've tied the laces up, your feet feel very supported by the actual shoe.
I found the upper mesh of the shoe very breathable and very light. I've not had any problems with it over the months of running in all weathers. However, my feet have felt ventilated even when running in a cold February cold !. These pictures, you can see after nearly well over 700 miles of running. The toe box of the shoe. I found it fairly wide; I definitely felt that it felt wider than the Cloudflyer One version that I had initially.
There is a heel counter that rises fairly well up the back of the hill, I've always found this really comfortable, and it's always made me feel, Again, that the shoe was supporting me well.
Is The Cloudflyer Going To Give You Enough Or Too Much Support?
I guess for some runners, it would really depend on the level of support you wanted from the shoe, but you've got to understand that from an ON point of view. The Cloudflyer 2 is a light stability shoe. So you have got those elements in that shoe, and you should know that before you buy it, that has got a stability element. However, as I've mentioned, up against many other types of stability shoe, I think it is on the firmer side. So if you wanted some support for your feet and your body when you run, you don't want to feel that your feet are completely encased in a shoe that lets you feel. Then, I think ON Cloudflyer would really scratch that itch in respect of something that would give you support, But not be too overwhelming.
How Does the On Cloudflyer Perform on the Run?
700 Miles And Still Going My Cloudflyers
Hey, so what's it like running in a pair of Cloudflyer 2 for almost 700 miles. Well, I have to say when I first put them on.
Back in October 2020. They do take a bit of wear, and now I don't mean from the perspective of blisters or anything like that; I had nothing like that at all. They felt totally comfortable, but they're quite rigid; when you first put them on, they feel quite rigid, even now, if I try to bend them because they have that support through right through the middle of the shoe if you turn the shoe upside down. You can see where that rigidity is that stability means that they are quite a solid shoe, so I felt for probably the first 50 miles; my feet were quite comfortable, I was quite comfortable. Still, after that, they really started to feel more intuitive as a shoe. Depending on what shoe you're coming from. I think they are a firmer, smoother kind of shoe with a rocker in them than that you might get with some other running shoes.
I know some people love that almost bouncy feel you get from a shoe. I don't think even though ON keep using the word cloud. I think you've got to understand their shoes, generally, give quite a responsive feel to the road, And as I say, it does very much depend on what shoes you're moving from. And I think this is why if you look at reviews of ON shoes. They're very divided, partially because running shoes are always quite a divisive subject because shoes are so personal for every runner. But also, I think it does sometimes come down to their marketing where I think people feel they're going to get a much more cushioned ride with the ONs; I think what you get with ON shoes is an honest shoe in the respect that it protects you from the things you need protecting from, but it doesn't carry you on the run, it supports you. Still, you can feel the road while you can feel the feet.
How Much Drop Does The Cloudflyer Have?
There's a 7mm drop on the Cloudflyer 2, which I quite like. It's not too extreme. I've run in shoes with much bigger drops, and personally, I'm not too fond of the feeling of standing on a shoe where I feel like I'm too far off away from the ground. The ON does a great job of disguising that, really, if you look at the shoe. It doesn't look like it has that kind of drop, and I think that's a lot to do with how the Helion superfoam is distributed on the bottom of the shoe. I think as they call their famous clouds. I think the technology that is used there. Just distributes your foot, with, of course, the speedboard; it moves you quite subtly forward the whole time, but without this feeling that you're obviously rocked.
How Heavy Are The Cloudflyers?
The Weight of the shoe is for men 290 grammes, that 9.8 ounces nearly 10 ounces. And like I say, it's got a heel drop of 7 ml, and for women, it's 210 grammes, which is 7.41 ounces. So they are light shoes, and that's one of the things that I've really noticed when I took them out of the box.
Frequently Asked Questions About Cloudflyer 2?
What's Special About the On Cloudflyer 2? Top Two Things:
1.Durability
A Tale Of Cloudflyer V1 &V2
So do you get your bang for the buck from the cloudflyer 2s. Well, as I say, it's a game of two sets of shoes for me—the cloud flyer ones I bought. I had issues with it. I had to return them where they actually got a rip in the corner of the shoe. And I have to say ON were brilliant. They just asked me to take some pictures of the shoes, which I did. And I think, within about 48 hours I had a new pair of shoes delivered to me, so their customer service was fantastic.
But as a picture shows here, that did happen again; over time, with the Cloudflyer version one shoes, it seemed to be an issue with the shoe. Now, if you look at the Cloudflyer2s after 700 miles, they look like much more durable shoe. I've run throughout the winter, in the UK in the Cloudflyer 2s, and though I haven't done anything extreme trail running, I have run some trails in them, and they are. I've not really cleaned them that much, but they have maintained themselves really well. You get many people saying that you should replace your shoes every 350 miles; obviously, it does come down to the type of runner you are how heavy you are. For me personally, if you can see the images, the wear on my shoes has been fairly minimal, and they are still working really well.
So definitely a massive improvement, and congratulations to ON for making the second iteration of the Cloudflyer much more robust than the first one.
2. Cloudtec Technology
So, what exactly is cloudtec? It all sounds well, very technical.
Well, it's ONs plenty cushioning, construction, it's basically like little tubes under your feet of foam. Across the outsole. And what it does is there to sort of support you on each stride as you run. Plus, you have the patented speedboard, which really gives the shoes, they bounce.
Recently you've had the introduction of they've utilised a material called helium, which is, it's made from a blend of EPA and OBC, foams. So it gives this bizarre situation where it gives a mixture of a stiffer and softer material in one compound, which is odd. That results in reduced weight but very, very good energy return from the shoe.
Price Of Cloudflyers?
So how much will a pair of the latest Cloudflyers cost you? well, as of writing this article, $159.99/£140.
This does not make them the cheapest running shoes in the world; however, with the better durability I have experienced after 700 miles, I think for me personally, they are delivering value for money.
Who is the On Cloudflyer Best For?
Who is the cloud flyer for who is it best for where you've got a charming mix of stability features but where it's not too rigid? You still feel that you're very much in control of the shoe. It's a lovely light shoe, and it covers a lot of bases, so you're going to be able to utilise it in a lot of training situations. For me personally, I've done tempo runs, I've done steady runs, I've done runs of from five miles up to 20 miles in the cloudflyer2 mentioned in this shoe. I think it's a very responsive shoe, without being too spongy.
I've read a lot of people love it for speed runs for 10ks and 5Ks. I personally feel that where it's not as responsive. For me, when I'm doing more high-speed work, so a quick 5k, I don't find the shoe as responsive as in those mid-paced runs. That's not to say that you can't do those runs in the shoe; because I do that, I definitely don't find it as responsive as I do in those steadier long runs where I think it really comes into itself as a shoe then.
I like the fact that the stability in the shoe is not overplayed. It will help overpronators and neutral runners, and I find that that has really helped me to that it's kept me stable, without feeling to the shoe was being too overprotective.
[lasso type="list" category="on-running-shoes-i-have-used" link_id="2961″]