Here are some of my favourite resources I use in my running.
I will add more as I go along.
The SpeedStrengh Program.
By Liam Butterworth.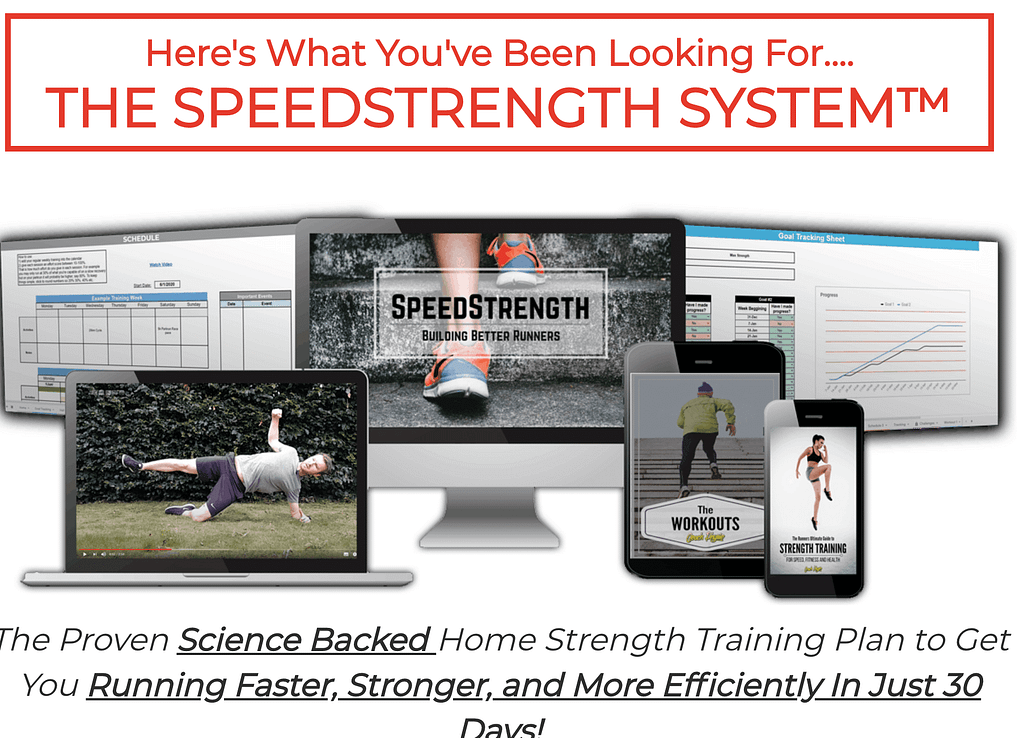 Liam has been my running coach. His speed-strength program is so fiendishly simple and time-efficient.
Plus and this is what makes it such a no brainer for me…..
This is not some template you work off…

No sir…

You send in some information to Liam and he sends you back a personalised plan that you work off.
Plus loads of great videos outlining why strength training is important, and the best foods to eat, pre-run, while running and post-run.
Check out my review HERE or go directly to the page Liams Page.
The Five Fundamentals Of Endurance Running For Older Runners
Okay. I have to be honest, it is my little video e-course that I run for free on the site.
But I think it really does give some great value for older runners that want to do endurance running, but are just perhaps coming up against some of the barriers that you meet as you get older, which is sometimes, you start getting slower, or you start running into more injuries or you just generally don't feel as good as you used to.
The program just goes into some fundamentals that can help you stay more injury-free and help you slow down, getting slower.
Find Out More about the 5 Fundamentals Of Endurance Running
The Inner Game Of Running.
The Inner Game Of Running as of writing this is not yet released but it's going to be my paid program for runners that want to find ways to reduce the amount of stress in their running to be more relaxed runners.

I will go through all my top techniques tips that will help you relax more while you run.
So that means that if you're relaxed, you will go faster and more than likely face fewer injuries and less anxiety when facing long runs and intense training schedules.

If you're interested in this program. You can join the waitlist where I will be doing an early bird special price.
To know more about the Inner Game Of Running go HERE
My Running Watch. The Garmin 245.
I love my Garmin 245. I'm no expert on Garmins, that I absolutely love it. I hear people talk about the 235, and I hear people talk a lot about watches above and beyond it in price.
I think the 245 suffers from the fact of being that middle child that everybody kind of ignores. I think the 245 probably is the best bang for buck out of nearly any of the Garmin models, but there again, I have to say I haven't used all of them.
But just from looking at the specs and the costs involved. I just love the fact that Garmin 245 gives so much for the money you pay.
I have to say, it's not the cheapest watch, and it's not the most expensive, and I think that's possibly its problem.
But if you're looking for a great mid running watch that will have a lot of functions that not cost you literally an arm and a leg.
I think you could do worse than look at the Garmin 245
The Wahoo Chest Strap Monitor .
I have used a Garmin heart rate moniter for double the price that gave me personally double the problems.
For about £39 I don't think you can go wrong. I did a full review of the Wahoo Tickr. But bottom line you strap it on and it works, I think there is a more advanced model too called the Wahoo TICKR X that captures more data but I just like to be able to get reasonably accurate heart reading for my easy runs.