Back in June 2019, I purchased the Garmin Hrm chest strap heart rate monitor.
This is my review of the Garmin Hrm-Run vs Wahoo Tickr, which I bought in October 2020.
Why did I have to buy a wahoo TICKR so soon after purchasing the Garmin chest rate monitor?
We will come to that in a moment.
First I Bought the Garmin HRM-Run.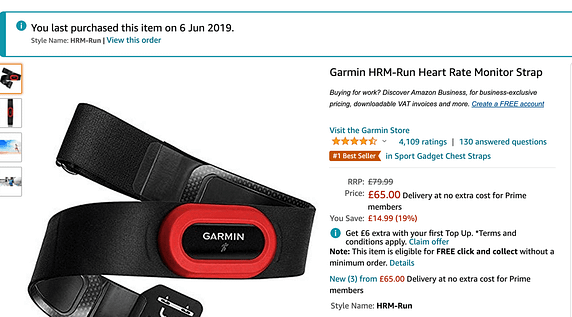 Why.
Well, my Garmin 245 is a fantastic running watch; however, the reading for heart rate from the wrist leaves a lot to be desired.
So I began my research and started looking for a heart rate monitor to use across my chest. I decided too that I wanted more metrics such as cadence and vertical oscillation.
At the time, I think Amazon was running a special offer on the Garmin HRm-Run.
I had a look at the specs…
About this item
Provides 6 running dynamics metrics: Cadence – Vertical oscillation – Ground contact time – Ground contact time balance – Stride length – Vertical ratio
Seamlessly comfortable and easily adjustable
The HRM module is small, lightweight and fits entirely within the width strap
5 ATM water rating, operates on a single CR2032 battery
Weight: 2.1 oz (59 g)
I liked what I saw, the price was right, and I have to say I have always loved Garmin watches, so I felt pretty confident with the brand; I really did not research any further than that.
24 hours later, I was a proud owner of the Garmin HRM-Run.
Set up was easy, with my Garmin and Garmin connect.
Accuracy Of Heart Rate Data
As you would expect, my Garmin watch and heart rate monitor played really nicely together; the Ant + technology worked seamlessly.
Now to the thorny issue of heart rate accuracy. The question always is compared to what? I see reviews of people showing differences between different heart rate products, saying one is more or less accurate.
Look, my take is none of them is 100%. What I want is consistency. I am looking at the variability of my heart through the zones I use to run from zone 1 (easy running) to Zone 5, running full out running.
I am sure that products will come out that is absolutely accurate, to be honest, or less I am in hospital for me the consistency of readings is more important, which is why the wrist heart rate monitors frustrate me so much.
Using The Garmin HRM-Run
With any product, a good benchmark is you take it for granted; from June 2019 till July 2020, we had a beautiful relationship 🙂
Of me running, enjoying the ability to see my cadence of my running on my watch and via Garmin connect.
Heart rate reading seemed consistent, and the strap is water-resistant to a 5 ATM water rating. I loved it.
Battery life was pretty good. Replacing the battery was a bit fiddly but doable.
Compatible Garmin Watches With Garmin HRM-Run
If you are looking at Android, I will check closely; it may work with Bluetooth, but I am not 100%.
The Garmin devices it's compatible with is very long.
So check out this link to see if your device is compatible with a heart rate strap.
Then Things Began To Go Wrong…
In July 2020, the heart rate readings on my Garmin starting shooting up dramatically, so much so if it were to be believed, I would have been going to my local hospital.
I was told to change the battery by wise old sages with heart rate monitors. I did. Nothing worked cleaning the sensors. Nothing worked.
Basically, I stopped wearing it and bunged it in a draw and went back to using my wrist-based heart rate sensor on my Garmin 245.
Frustration followed with my heart rate monitor on my Garmin 245 over the next 3 months till I cracked and decided to dip my toes back into the chest strap heart rate monitor world once more…
Once Bitten Twice Shy…
So this time, if I were going to buy a heart rate sensor for my chest, I would do my due diligence. My wife laughed as I kept moaning about not having a chest strap but would not commit to buying one.
Here's Why
When you dip into Amazon, you see many heart rate monitors, all with great reviews; however, many people complain that their monitors had stopped working.
This was across the board and price ranges and manafacturers .
I looked at…
Polar h10
Garmin (again)
CooSpo Heart Rate Monitor
All had great reviews; however still many reports of unhappy purchases; now this is pretty normal in the digital world; however, there seemed to be a pattern of many people saying they were having problems with their chest strap heart rate monitors from pretty much all the brands I looked at this made me ultra-cautious 🙂 In the end, I pragmatically looked at things. If my heart rate monitor was at risk of being faulty, I wanted to make sure I could return it, plus I was not going to spend top dollar.
Enter The Wahoo TICKR
I initially looked at the TICKR X as it was more like a product with my now-defunct Garmin HRM-Run. However, the price point was nearer to it as well.
I had decided my main goal was to get a heart rate monitor that did just that I was not concerned with running metrics such as ground contact time, vertical oscillation or cadence. Though I have since found out my 245 tracks cadence anyway. Result.
So if you are looking for more of a like for like heart rate sensor, then you might want to look at the Wahoo TICKR X.I decide to go for the less fancy but cheaper Wahoo TICKR
At £39/$50, and I know if it was rubbish, Amazon would not let me down 🙂
So In October 2020, I Bought The The Wahoo TICKR
Here Are Some Stats About The Wahoo TICKR
TICKR connects heart rate to your favourite training apps and devices. Proven technology delivers accurate heart rate and calories to Wahoo Fitness and other popular training apps.
Equipped with Bluetooth & ANT+ technology, TICKR pairs to smartphones, GPS watches and bike computers. Easy to see top-mounted LED indicators to verify that the TICKR is connected to a device and capturing heart rate data.
TICKR is the lightest and slimmest heart rate chest strap available. The integrated design provides a secure, comfortable fit that reduces movement while working out.
Record workout data with the Wahoo Fitness app and automatically upload data to your favourite training platform like Strava. Works with 50+ apps including Wahoo Fitness, Zwift, Runtastic, Runkeeper, UA Record, Endomondo, Peloton, Map My Run
Wahoo TICKR Comfort
I found the TICKR to be really comfortable. No problems at all. The integrated sensor strap design of the ticker provides a very secure connection.
It fits really well. It's only 48 grammes and about 12 millimetres thick.
So it's one of the lightest and slimmest heart rate monitors straps you're going to get and combined. And I really don't even realise that it's on when I'm running really.
I have read some comments about the popper that connects the heart rate monitor coming undone when doing intense exercise. I only use it for running, and that has never happened to me, however worth consideration.
Wahoo TICKR Ease Of Use.
One set up I just found the tickr, really easy to use; I just strap it on the light blink, it connects to my Garmin, 245, and I'm literally out the door, and I'm running.
Here are the lights it uses and what they mean…
Slow Blue Flashing: TICKR is on and searching
Fast 4x Blue Flashing: A device/app has been found
Fast Blue Flashing: A device/app is now connected to it
Red: Each time a heartbeat is detected.
Is Wahoo Tickr Compatible With Garmin?
Yes. Garmin just used proximity pairing to pick up the TICKR. The Wahoo uses Ant + and Bluetooth, though I would say Ant + is more reliable. Then pair up with the Wahoo App. I am not a massive fan of the app and hardly use it; however, you can find out about updates via the app, so that's useful.
Is Wahoo Tickr Accurate?
Is the TICKR accurate? As I've mentioned earlier, I'm not actually sure any heart rate monitor is totally accurate. What I found is it to be consistent.
The only issue is I sometimes do get some variability in my heart rate. When I start running, I would expect this to some degree as your heart rate can rise quite quickly when you've first initially started running, but I feel that this isn't the issue; I think it is some connectivity issue.
Sometimes I will start a run, and my heart rate will be 190, whereas, you know, it will settle down in a minute or two to something like 116; When you consider my high heart rate is 170. You can understand I don't believe the Wahoo when I am jogging along, and it says 189 :). This soon stops, but initially, it's a bit distracting.
After that, I found it to be very consistent compared to the Garmin. It seems slightly lower in measuring my heart rate than the Garmin in its average heart rate. As I say, I don't know if which one is more accurate, just that they are different!
Obviously, there seems to be a difference between the two. Which one is more accurate. That is an argument that you can have on the forum or something like that; as I've said all along, what I'm actually looking for is relative consistency to run within certain zones with reasonable confidence.
So I found the Wahoo very accurate in that respect, except when you first started running. I think you'd have to take the readings with a pinch of salt if you had the same kind of issues that I've had.
3 Simultaneous Bluetooth Connections On A Heart Rate Monitor
I can't say I have personally used this feature; however, for many, this will make a huge difference if you require that the Wahoo can connect seamlessly with more than one device.
Is Wahoo Tickr Heart Rate Monitor Waterproof
Yes. It's Sweatproof (Handwashable Strap), and it has Water Rating: IPX7 (Waterproof up to 5 ft.) I have been out in the rain with it many times, as is the way of UK weather 🙂 and I have had no problems at all. I am not saying I would trust it swimming. But that's just me. It says 5 Feet.
However, when cleaning the strap, do not take it in the shower…Just unclip it and was the strap separately.
Conclusions.
So my conclusions to this exciting story. 🙂
So, my Garmin HRM run. I really loved it while it worked. And obviously, anyone can get a model with a problem, but it seems to be a thing with some of Garmin's heart rate monitors. They don't seem to be made to a specially high standard, just from what I read and have experienced.
Now that would be kind of okay, if they didn't trade on their brand name and charge far more for their heart rate monitors.
If you're going to pay premium prices, you expect a premium product. I'm not sure you get that now that could change, and I'm a huge fan of Garmin, especially my Garmin 245 and the Garmin watches. I love them.
So I'll be keeping a close eye on what Garmin does with its heart rate monitors over the coming years because when I need to purchase again. I will look at them. But, as of writing this blog post, I have to say that I was very disappointed.
When I looked at buying the Wahoo TICKR, I looked at a lot of heart rate monitors. Like I've mentioned in the article earlier. I looked at the Polar heart rate monitors, CooSpo Heart Rate Monitor, and really, in the end, I was looking for something that was going to be effective, but if it didn't work after 6 months, then it didn't break the bank.
I suppose I approached it rather negatively. And what I found with the Wahoo TICKR. I paid, I think, £39/$50 for mine back in October 2020. Now we're in April 2021, and it's going really well, as you'd expect it to.
But when you consider that I only paid £39/$50 for the Wahoo TICKR, and the Garmin heart rate monitors, such as the Garmin HRM Dual, is £54/$68, and it's not even waterproof like the Wahoo TICKR is.
So they're considerably more expensive. And at the end of the day, I don't think you're getting a lot more for your money except a brand name, and I think Wahoo, who are starting to get a really great reputation for their products now. But the price point is still very, very reasonable.
So I would fully recommend the Wahoo TICKR; I think, obviously, if you want more extras, things like cadence, then you might want to look at the TICKR X, I haven't used it personally, but it does have more options. Still, you do pay more for those options, and it does bring it much more closely to the price points of some of the Garmin heart rate monitors.
Heart Rate Monitors Mentioned In This Article
[lasso style="grid" category="chest-strap-heart-rate-monitors" link_id="2959″]